A new civic engagement tool from the Toronto Public Space Initiative, the Transparent Accessible Bulletin System (TABS) is a tool for monitoring issues and actions in the City of Toronto. 
TABS makes searching through government records easy. Search for keywords, add filters, discover related information, and signup to receive email alerts. If you're an engaged resident, policy expert, journalist or busy bureaucrat, this is the tool for you.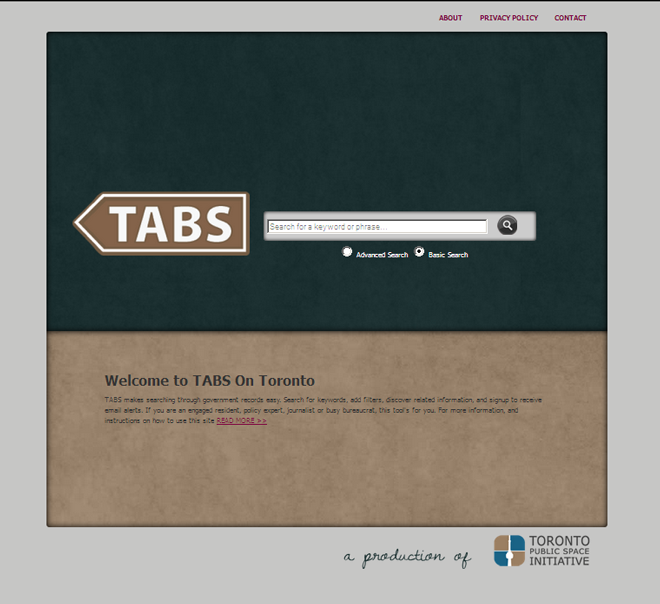 Created in response to a growing demand for Web applications supporting the discovery and tracking of government activity, TABS's core function is to scan open data records and facilitate the public's ability to find what they are looking for. Government affairs are often complicated, involving many steps and multiple sources of information. TABS helps simplify government's complexity and keep citizens apace of its activities.
For example, a user can use the system to search for any topic of their choice, or a policy issue of interest to them. Whenever that word comes up on a Council agenda item or background document they will get an automatic email from the system informing them of the upcoming Council meeting.
Resident's will have an easier time keeping informed of what government is doing, never missing a beat, and getting their full 7 days statutory notice.
Project Goals
Facilitate access to information regarding meetings at city hall
Increase public awareness of what is going on at Municipal meetings
Increase accountability at city hall
Save people and organizations time and effort they could be spending on more productive uses;
Features
An enhanced search option using the City's own thesaurus from its open data catalogue, showing users related and alternate keyword search terms that the City uses to help them refine their search.
Fundraising
The system is launching as a beta and, if we secure enough funding, future features can include:
Bill/policy progress tracking.
Text/phone alerts.
Advice on how to engage City Hall.
Expansion of the system to include the Agencies, Boards, and Commissions of the City of Toronto (TTC, Library Board, Toronto District School Board, etc)
Research into geo-location of alerts, and information of nearby community organizations, contextual information, and other expanded features.
Research on expansion to other Cities and Levels of Government.
Crowd-Source Funding Link:
TABS Team
Initially concieved and brainstormed by Toronto Public Space Initiative during the summer of 2012, it was finally developed by a number of volunteers, including TPSI staff, at the Random Hacks of Kindness (RHOK) hackathon  Dec. 12, 2012.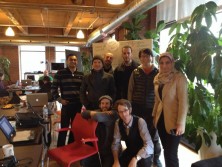 Jayme Turney (TPSI Team Lead), Bill Cowen (TPSI Technical Projects), Katina Schell (TPSI Art Director), Christian Muise (Lead Consultant), Leon Lukashevsky (Consultant),  Morgan Peers (Consultant), Rajiv Abraham (Consultant), Yupeng Yao (Consultant), Iram Imitaz (Consultant), Denise Cheng (Consultant), Peirre-Antoin LaFayette (Consultant), Reiner Kravis (TPSI), Philippa French (TPSI), David Weisz (Consultant), Ryan Stephenson Price (Consultant), Daniel Quinn (Consultant).
The System and More Information Can Be Found At:
For additional information on the system, and how it was developed, please contact:
Jayme Turney, MA
Chief Executive Officer : Toronto Public Space Initiative
Alternate Contact:
Bill Cowen
Technical Director : Toronto Public Space Initiative